Products - Export Fabrics
H.L. Textiles, since 1960 has been offering wide range of Industrial & Filter Fabrics. With the last 4 Decades of high-powered synthesis of experince, progress, know-how & innovation, H.L Textiles holds the leading position in innovative products development, offering cost effective solutions to our valuable customers
We offer a wide selection of fabrics in Polypropylene, Polyester, Polyamide (Nylon 6 & Nylon 6.6), 100% Cotton & Pollyester-Cotton with width upto 2.15 meters and length up to 2000 meters in greige or finished as per the costomer's requirement.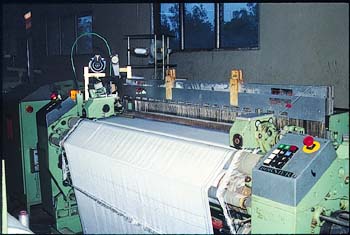 With the name synonymous with quality & reliability, H.L. Textiles has proven its leadership with its ability to stay ahead. Ask us about the future. Compare us with others. We stand alone with cutting edge solutions that give you the competitive edge.
We have for you...
Polypropylene & Polyester Liner fabrics for Tire & Rubber Industry.
Polyester, Nylon 6.6 & Rayon-Cotton Lead liner fabrics for Tire Industry.
Nylon Duck fabrics for Conveyor Belts Industry.
Impression fabric for V-Belt Industry.
PVC coating and Laminating Industry fabrics.
Re-enforcement fabrics.
Shelter Tent Duck.
Army Duck.
100% Cotton Duck.
Shoe & Soft Luggage Industry fabrics.
Mushroom Plantation Industry fabrics.
Hose Pipe Industry fabrics.
Nylon fabrics for Sandich belting & Spindle tape.
Awnings & Canopies fabrics.